Elias Tillandz prize for the best publication in BioCity Turku 2019
The sixteenth Elias Tillandz prize was supposed to be handed out in the context of the BioCity Symposium in August 2020. Unfortunately due to the pandemics BioCity Symposium was cancelled and Elias Tillandz prize 2019 has not been handed out yet.
The winner has nevertheless been elected by our Scientific Advisory Board and we will announce the winner soon in the Univeristy of Turku, Åbo Akademi Univeristy and Stiftelsen fö Åbo Akademi newfeeds.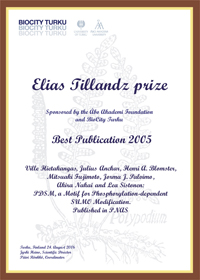 BioCity Turku will ask for proposals for the seventeenth Elias Tillandz prize for the best scientific paper published in 2020 during the Spring 2021
Elias Tillandz Prize rules [ENG] [FIN]
Elias Tillandz Prize archive