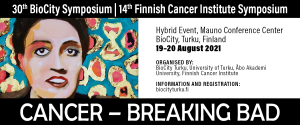 We aim to arrange the Symposium as a hybrid event. This means that most of the speakers will be on-site in Turku and we will have at least some audience with us here!
Welcome!
.
Our invited speakers are
Leila Akkari
Edwin Cuppen
Stephen J. Elledge
Robert A. Gatenby
Vera Gorbunova
Marja Jäättelä
Janne Lehtiö
I-Mei Siu
Marlowe Tessmer
Harmony Turk
Sakari Vanharanta
Gonghong Wei


.
Follow our news feed and we will keep you posted!