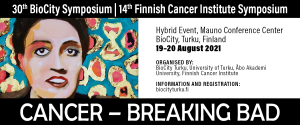 Depending on the pandemics situation the Symposium will be arranged either as a hybrid or as  a fully virtual event.
.
Our list of confimed speakers so far is
Leila Akkari
Edwin Cuppen
Stephen J. Elledge
Robert A. Gatenby
Vera Gorbunova
Marja Jäättelä
Janne Lehtiö
I-Mei Siu
Marlowe Tessmer
Harmony Turk
Sakari Vanharanta
Gonghong Wei


.
Follow our news feed and we will keep you posted!